December 22, 2012
Our trip through Southeast Asia was among some of the best times I've had in my life. Of course, this came with having some of the best company I could ask for on my travels – you! I want to say thank you for being such a great traveling companion. It truly means a lot to me that you've understood the car ride sing along's, my obsession to take a million photos along the way, and braving the murky waters of the jungles. I wanted to do something nice for you for the holidays. I couldn't think of a better way to show my appreciation to you than having you come along to South America with me! I know the holidays are just around the corner, but we'll be back just in time for Christmas…
I know you weren't looking forward to it, but after another long flight we've finally landed in the "heart of the Amazon"- the magnificent city of Manaus. As much as I would for us to play on the banks of Ponta Negra Beach, we've got work to do. After a night out on the town, we've arrived at one of the ports on the Rio Negro bright and early the following morning. Our captain has instructed us that we will be following this until we reach the Rio Solimoes. Our boat sets sail on the Rio Negro, and after a few miles of travel we have come to the "Meeting of the Waters". This a spectacular sight where the brown waters of the Rio Solimoes meet the black waters of the Rio Negro for almost 6 miles. In my opinion, this is truly one of the Seven Wonders of the World.
Many hours later our guide brings us to the Rio Parangá; in the upper Rio Negro basin. Here our fish collecting nets get wet for the first time to pull up some visually pleasing dark green bodies and strikingly orange fins. The fish appears to be Corydoras seussi. These rather large wild caught individuals are a rare treat in the hobby these days, with seldom imports out of the Amazon. When we get them back to the states we'll want to be sure to keep them in a tank with a sand substrate. This will ensure that their delicate under sides do not get harmed. It will also allow them to dig their enlongated noses in the sand in search of buried worms. I've waited a long time to see these fish in nature, and now I can't wait to see how they do when finally get home.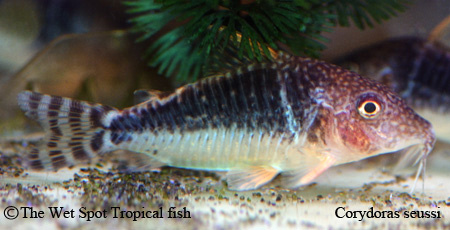 These awesome cory's weren't the only thing our nets brought into us. There was plenty of bi-catch Tetras in the net. Most of the fish was nothing really exciting, but we managed to find a few of one of my favorite tetras- Hyphessobrycon pyrrhonotus "Flame Back Bleeding Heart". Much like its cousin, Hyphessobrycon erythrostigma "Bleeding Heart", these 2" fish exhibit a red spot located in the middle of the fish. Unlike the common Bleeding Heart though, the back half of the fish is a rosy red coloration. This elegant coloration is usually best displayed with the fish are kept in more acidic tanks. It looks like we only managed to bring in a few dozen, so I'm sure they'll go quickly once we get them back into our tanks to show off these beauties of the Rio Negro.
Our guide instructs us that we'll be heading back down river to meet up with the Rio Solimoes. He tells us that he has a special "fishing hole" near the Rio Ucayali that would interest us. As the boat travels downstream millions of birds flock through the Amazon rainforest, while below the Caiman Alligators wait patiently for the younger birds to make a mistake. Our boat has come to a lowland spot along the river. I think this would be a good area once again to get our nets into the water. What we didn't expect was for them to pull up another dark green bodied armored catfish. To our surprise this other cory would appear to be Corydoras semiaquilus "Peru Black Cory". Yes, I know the common name says that they come from Peru, but these 3" fish are actually widespread throughout Brazil and Peru. The long snouts of the marvelous cory are peppered with dark a green spot that blends into a bold green stripe along the fish's side. They look to be in great shape here, but let's get them back to shop to condition them. After all, we're running out of time if we're going to make it home for the holidays!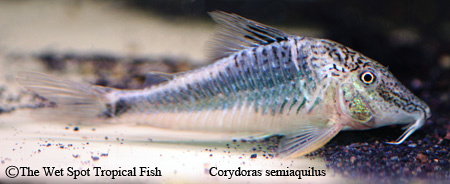 I've got a little Christmas surprise in store for us once we get back to Manaus, so our guide high tails it back to the great "City of the Forest". I know it's not the sandy beaches of Piranha infested waters, but the Amazonas Opera House should hopefully be a real treat. After all, the night is still young, and we can always sleep on the plane…
You guys really are some of the best traveling companions. I've had a great month traveling, seeing the world with you, and, of course, collecting some of the coolest freshwater fish in the world. I and the rest of The Wet Spot staff want to thank each and every one of you for a great year. With the holiday finally here we would like to say thank you all so much for your continuing support. Without you we would have no reason to be here. Well, other than to satisfy our own fish cravings. With this I would like to say Merry Christmas from our family to yours. We hope each of your days is full of joy.
Thanks for traveling with me again. I know it was a bit last moment, but isn't that what makes this fun? I'll see you all aboard the next boat!
Anthony Perry
Sales Manager