October 21, 2011
Loaches are classified in the order of ray-finned fish Cypriniformes. Also in that order are carps, barbs, rasboras and minnows, which are closely related to loaches. Cypriniformes are completely absent from Australia and both of the Americas, and are most widespread and diverse in Asia. New species of loaches are found or described every few months and even new genera are being discovered regularly. Some families have adapted to living in the open waters of lakes, while others have flattened out their bodies to live in the fast flowing streams of mountainous highland regions.
Loaches have been divided into three families: Balitoridae, which includes the hillstreams types, Cobitidae which includes the Botias, and Gyrinocheilidae which includes the sucker loaches. In 2004, Dr. Maurice Kottelat divided the Botia genus into four different but related generas. Botia loaches are one of the most popular loaches among hobbyists today. The Botia family does not possess teeth in their mouths, but instead have what are known as pharyngeal teeth, which they use to extract snails from their shells. While cichlids use their pharyngeal teeth on both their upper and lower jaws to eat, loaches grind their foods against a chewing pad located in the back of the jaw. One special and distinctive characteristic of Botia species is that they sometimes make a "clicking" noise with those pharyngeal teeth. There are now upwards of 13 species in the Botia family, including the first loach being featured this week…
Although no definitive information has been found, Botia kubotai "Burmese Border Loach" is believed to coexist with Botia histrionica "Golden Zebra Loach" in the Ataran River in Myanmar. Juveniles of these fish are very similar in appearance with gold and brown stripes. As B. kubotai grows to maturity the stripes form together to show "polka-dots" on the side of the body.
B. histrionica develops five sub regular shapes that each contains a small round spot in the lateral line and the ridge of the back. Both of these species are very undemanding once adapted to a home aquarium and will readily accept any prepared or live food. Their pH should be kept around neutral (7.0) to ensure their best health. The Burma Border Loach will reach a total length of 7" and the Golden Zebra Loach will max out at about 5". I have personally kept the Burma Border Loach and know firsthand how exciting it is to watch these fish go through a metamorphosis with the pattern changing into its dots!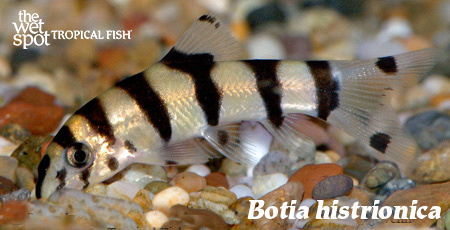 Kottelat named the next genus in honor of the Japanese collector and researcher Dr. Yasuhiko Taki in 2004. However, further studies may even place Yasuhikotakia sidthimunki "Dwarf Chain Loach" and Y. nigrolineata "Laos Linear Loach" into their own genus.
Named after Area Sidthimunk, who was a researcher at the Department of Fishes, the Dwarf Chain Loach was discovered in 1959 by Sukaram and Lekaree. Original descriptions for Y. sidthimunki were believed to be from the Yom River in northern Thailand, but this is incorrect and only true for Y. nigrolineata. The real location for the Dwarf Chain Loach was actually the Mae Klong River basin in western Thailand. Sadly, these fish were driven to near extinction by over fishing and farming of the lands. Today, fishermen rediscovered these elegant loaches in the Sangkhla Buri system in western Thailand. But for over 30 years, fish farmers have been breeding these loaches in captivity. The amazing Dwarf Chain Loach does better in groups of 5 or more and will eagerly feed on prepared foods. The aquarium should be maintained regularly and the pH should be between 6 and 7.5. One of the smallest members of the family, the Dwarf Chain Loach only grows to just over 2" at maturity. There is nothing more beautiful than seeing a large group of these swim through an aquarium!
Y. nigrolineata has been recorded from parts of the Mekong river drainage in northern Thailand and also the Nan River, which is a tributary of the Chao Phraya of Laos. Although the Linear Loach looks very similar to its cousin, the Dwarf Chain Loach, it is rarely imported into the hobby. Even as juveniles the two can be differentiated by the solid stripes on the side of the body that the Linear Loach has. Size is certainly much larger in this case as the Linear Loach grows to nearly 4" in length. However do not let the larger size fool you. The Linear Loach is just as peaceful as the Dwarf Chain Loach and is also best kept in large groups. Either one of these loaches is sure to add character to your tank!
The family known as the Hillstream Loaches contains more than 600 species in 60 different genera with the family Balitoridae and Nemacheilinae being the main subfamilies. They primarily inhabit swift, high-oxygenated, and very clear waters. Often their fins have adapted to "clinging" onto rocks or fallen logs. This means that in the home aquarium the tank should be kept clean and well filtered. The use of a powerhead will aid in the wellbeing of this truly unique group.
The Serpenticobitis octozona "Serpent Loach" is collected from the Sekong River basin in southern Laos and The Wet Spot Tropical Fish was one of the first to offer these marvelous creatures on a regular basis into the states. Here the Serpent Loach is restricted to shallow, and fast flowing riffles of broken up pools. The fish are omnivorous but given the natural habitat Serpent Loaches probably feed on small insects and crustaceans, therefore, the diet should consist of frozen bloodworms and high quality prepared foods. The Serpent Loach grows to about 2.5" in the aquarium and is ideal with tank mates such as Microdevario kubotai "Green Rasbora" or Sawbwa resplendens "Naked Rummynose Rasbora". Like most loaches, the Serpent Loach prefers to be in groups and should be kept as such. You'll love how these terrific fish prop themselves up onto tank decorations!
This wraps up one more edition of my weekly newsletter. This week we received many new fish so be sure to look for all the new items highlighted in bold. There are plenty of new loaches available including the extremely rare Protomyzon pachychilus "Panda Loach" and Botia dario "Queen Loach". I did not have enough time in my notes this week but I still want to mention we still have a beautiful batch of Schistura balteata "Sumo Loach". You'll find the list attached to the products link below. Thanks again and I hope you all have a great week!
Anthony Perry
Sales Manager